In November 2013, the inaugural "Together Let's Stop Traffick" Summit in Ottawa, Canada brought together motivated delegates and speakers from all over the world with a shared mission – to work together to create the model framework for a shared knowledge and Global Resource Centre to help bring about an end to human trafficking (HT) through the free sharing of intelligence and international best practice. [Click to View Photo Book.]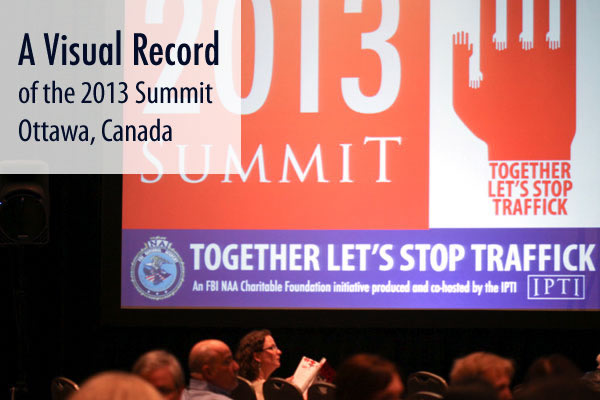 Below you will find a selection of the presentations from the 2013 Summit.
Summit 2013 Presentations
Note: Presentations have been turned into PDFs for archival purposes and no videos are added due to the impact on file size.
Thursday, 14 November, 2013


Timea Eva Nagy,
Survivor of Human Trafficking, Founder of Walk with Me

Leif Coorlim, Editorial Director, CNN Freedom Project and Award winning journalist
Download PDF
No Presentation Available
Friday, 15 November, 2013


Scott Santoro, Blue Campaign Training Advisor Federal Law Enforcement Training Center
Melissa Stewart, Senior Advisor - Trafficking in Persons, World Vision Australia
Download PDF
No Presentation Available
Jennifer Kimball, Systems and Data Coordinator, Polaris Project
John Penn II, Senior Solutions Architect, Adobe Systems Incorporated
Download PDF
No Presentation Available
Joy Smith, MP, Government of Canada
Virginia Sudbury, Human Trafficking Lawyer and Author
No Presentation Available
No Presentation Available
George Mueller, Assistant Chief, Los Angeles County District Attorney's Office
Andrew Desmond, Director, Anit-Trafficking Consultants
UNDOC Expert in Nigerian Organize d Trafficking
Download PDF
Download PDF
Saturday, 16 November, 2013
| | |
| --- | --- |
| | |
| Ernie Allen, President and CEO, International Centre for Missing & Exploited Children | Maria M. Odom, CIS Ombudsman for the US Department of Homeland Security, and the Blue Campaign Chair |
| No Presentation Available | No Presentation Available |

After the Summit, five volunteer working groups were formed, comprised of Summit delegates and speakers, and tasked with developing action plans and resource requirements for the Resource Centre's five operational cornerstones. Those include: Research; Funding; Communications; Management Information; and Structure, Process and Operations. The framework for their work is detailed in the Summit outcome document entitled, "Book of Proceedings" — a working document compiled by CT Labs. A copy can be obtained upon request.