DEADLINE EXTENDED: AUG 28, 2015

Are you a university graduate student, or university professor / instructor, active in the field of research on trafficking in human beings?

Or perhaps a practitioner in one of the multiple, inter-disciplinary fields associated with counter-human trafficking activities and have valuable research, expertise or work experiences you would like to share?

Then we invite you to submit an abstract to present at the third annual Together Let's Stop Traffick collaborative Summit with its theme of "Ensuring Supply Chain Integrity" as we move towards Phase 3 of establishing the first Global Resource Epicenter Against Human Trafficking (GREAT).
DOWNLOAD CALL FOR PAPERS Submission details document: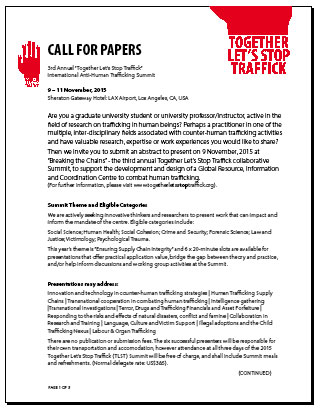 CLICK ON REVIEW PANEL NAMES BELOW TO REVEAL BIOS

Marcel Van Der Watt, (Chair), is a lecturer at the department of Police Practice at the University of South Africa (UNISA). He was a member of the South African Police Service for 10 years, where he worked as hostage negotiator and investigator at the Hawks as well as with the Family Violence, Child Protection and Sexual Offences Unit (FCS). The Hawks are South Africa's Directorate for Priority Crime Investigation (DPCI) targeting organized crime, economic crime and corruption.

Marcel gained international recognition for his work in counter human trafficking, and has received numerous awards and commendations for investigation of crime. These include awards from the National Police Commissioner, Rotary International, ADT Security and a nomination as finalist in the Police Star of the Year competition.

For his contributions to the field of counter-human trafficking, Marcel was awarded a position in the Young People in International Affairs (YPIA) "Top 35 under 35 Africans for 2014", and received an unreserved endorsement from E. Benjamin Skinner, author of 'A Crime So Monstrous' and fellow at the Harvard Kennedy School CARR CENTER for Human Rights Policy (Massachusetts, USA).

Marcel acts as case manager for the National Freedom Network and is a member of the Gauteng Rapid Response Task Team for Human Trafficking. He has contributed to peer-reviewed publications and book chapters on issues related to human trafficking, sexual offences against women and children, and criminal investigation. He is currently busy with his Doctorate in Police Science.


Professor John Winterdyk is founding Director of the Criminology and Criminal Justice Research Centre at Mount Royal University (MRU) in Calgary, Alberta (Canada). He is an Adjunct Professor at St. Thomas University (New Brunswick), the University of Regina, (Saskatchewan) and the Polytechnic of Namibia, (Namibia).

In 2009 he was the first recipient of the Distinguished Scholar Award at MRU and, in 2010, received the Distinguished Research Team Award. He has authored/ co-edited nearly 30 academic books, and authored dozens of peer-reviewed articles.

He currently serves as Director of ACT (Alberta Coalition against Trafficking) and is a co-book review editor for the Journal of Human Trafficking. In 2011, John co-guest edited a special issue of the European Journal of Criminology focused on human trafficking, and has written more than a dozen human trafficking related articles and/or book chapters on various themes related to human trafficking.

In 2012, he co-edited the book Human trafficking: Exploring the International nature, concerns and complexities (CRC Press). He is co-organizer of the June, 2016 workshop on children and human trafficking to be held at the Sociology of Law Institute in Onati, Spain.

In Alberta, Canada, John and a co-investigator are working on a provincial study on human trafficking, involving a multi-phase research project aimed at developing an in-depth understanding of the perceived extent, nature and response to HT in that province. Their goal is to provide a number of informed recommendations for standardizing how Canada's provinces develop effective models of response to human trafficking.


Dr Geeta Sekhon Dr. Geeta Sekhon is a legal professional from India specializing in Rights of Children and Human Trafficking. She has earlier been an officer with the Indian Navy and an academician. Since 2007, Geeta is a global Consultant with the UN with extensive professional experience in the South Asia and South East Asia. She has worked with several UN agencies and authored multiple research reports and training manuals on human trafficking, child sexual exploitation, and juvenile justice; and conducted training programmes as a Master Trainer for police officers, public prosecutors and judicial officers in these three areas.

Benjamin Greer is a former Special Deputy Attorney General for California where he was a lead member of the State Attorney General's Human Trafficking Special Projects Team. He co-ordinated directly with the Attorney General to advance her anti-trafficking agenda, including her work with the National Association of Attorneys General Presidential Initiative on Human Trafficking, and Co-Chaired the Attorney General's Human Trafficking Work Group.

Tasked with provding a comprehensive update of trafficking across California, his team's new report was completed and published November 2012. Ben has previously presented and published extensively on human trafficking, including teaming up with law enforcement and intelligence gathering experts to help create the first ever Trafficking in Persons (TIP) Report Tier Status training program.

Paragon Team's primary role is to analyze a country's annual ranking in the US Department of State's TIP Report, and develop a country-specific training course designed to address deficiencies, and offer corrective remedies.

Ben Greer currently serves with the California Department of State Hospitals (DSH) as a member of the involuntary medication hearings team and Sexually Violent Predator (SVP) Departmental Review Panel. Before joining DSH and the Attorney General's staff, Mr. Greer was a research attorney for the California District Attorneys Association.


Michael Pittaro (PhD candidate) is a 27-year criminal justice veteran, highly experienced in working with criminal offenders, who serves as Assistant Professor of Criminal Justice with American Military University and adjunct criminal justice professor with East Stroudsburg University.

Professor Pittaro has taught at university level for the past 13 years while also serving as author, editor, and subject matter expert. He holds a BS in Criminal Justice, an MPA in Public Administration and is currently a doctoral candidate in criminal justice.

He is the author of multiple university level books and scholarly journal publications, including the Unites States first criminal justice quick study reference guide, and "Crimes of the Internet": an anthology of cybercrime research.

Professor Pittaro is a member of the International Editorial Advisory Boards for the International Journal of Criminal Justice Sciences and the International Journal of Cyber Criminology, and also serves as peer reviewer for the United States Department of Justice. He has presented at the Academy of Criminal Justice Sciences, the International Summit on Combating Human Trafficking, and will present at the Southern States Correctional Officers Association as well as at the Ohio Juvenile Detention Association Conference in June 2016.



Dr Amanda van der Westhuizen is a counselling psychologist and lecturer in the Department of Psychology at the University of Pretoria in South Africa. Her D.Phil: Psychology, entitled "Co-mapping the maze: A complex systems view of human trafficking in the Eastern Cape" explored the complexity of the crime of human trafficking in one of the poorest provinces in South Africa.
Amanda's research interests include the complexities inherent in the relationship between trafficker and victim of trafficking, complex trauma experienced by victims of trafficking in the trafficking situation, and the influence of these psychological factors on the criminal justice process.
She is involved in various civil society counter-trafficking activities such as awareness raising projects, specifically for health care practitioners. Amanda was the founding member and chaired a coalition of civil society counter-trafficking organisations in the Eastern Cape before relocating to Pretoria in the Gauteng Province of South Africa.
Since 2000, Julia Perkins has worked with the Florida-based Coalition of Immokalee Workers (CIW), a community organization with over 6,000 immigrant worker members which has received numerous international awards and aided in the prosecution by the US Department of Justice of six slavery operations and the liberation of over 1,000 workers.
Skilled in handling victims' issues including interviewing, immediate needs and interpretation, Ms. Perkins coordinates the CIW's Workers' Rights Education program, represents the CIW as part of the Freedom Network, USA, has collaborated with Florida's Statewide Human Trafficking Task Force and serves on the Collier County [FL] Coalition Against Human Trafficking.
Ms. Perkins testified at the 2011 hearing convened by the United Nations Special Rapporteur on Violence Against Women, contributed to the National Sheriff Association's Roundtable's report "Enhancing Community Policing with Immigrant Populations" and was keynote speaker for the 2008 National Farmworker Health Conference in Puerto Rico. She worked extensively on US vs. Navarrete (2008), a violent slavery case involving workers held against their will in Florida and the Carolinas, and has served multiple times as liaison between immigrant victims of crime and local sheriffs' departments. She has also worked extensively as a health educator conducting outreach to labor camps in farming towns along the East Coast from New Jersey to the Carolinas to Florida.
Benjamin Greer is an expert in legislative consultation and legal analysis, with particular focus on assisting Governments to enhance anti-trafficking laws to protect vulnerable populations, identify survivors and prosecute traffickers.
Ben and his team have designed and improved asset forfeiture laws in California to effectively dismantle trafficking networks, as well as educating courts and prosecuting agencies on the unique challenges of calculating restitution and bail. He also advises on the legal requirements for T-Visa applicants suffering from mental health trauma.
They have recently increased their focus on supply chain transparency, application of sexually violent predator (SVP) laws and tribal law enforcement prosecutions involving trafficking of American First Nations victims. Ben also advises coalition groups seeking to abolish slavery and human trafficking, and has served as Special Deputy Attorney General for the California Department of Justice where he co-chaired the Attorney General's Human Trafficking Work Group.
Phil Culhane is the Executive Director of CT Labs, an Ottawa-based consultancy focused on outcomes-oriented facilitation based on complex collaboration. Phil is a Senior Collaboration Lead within the consultancy, and designs and delivers key strategic engagements.
Phil's particular area of fascination is around enabling human systems to function more effectively. For the past 12 years, Phil has been working to develop tools, techniques and processes as a part of a larger methodology that enables breakthrough thinking, open collaboration and lasting cultural change within complex human systems. Phil applies an outcome-driven approach that engages leadership and broad stakeholder groups to enable both incremental and fundamental change.
Phil's work is sector-neutral, and has been applied successfully in numerous engagements across Canada and the USA. He has worked with all levels of the public sector (Federal/Provincial/State/Municipal) – often at the same time. He also has worked with very large health care systems – individual hospitals, regions, provinces, states and national health care bodies have been fascinating clients.Phil has brokered private sector as well as private/public partnerships. He has also worked with utilities (communications, energy) as well as universities.
__________________________________