Together Let's Stop Traffick 2015 is a collaborative, international three-day working conference taking place in Los Angeles, CA.
Event Facilitators and Summit Partners, CT Labs:

CT Labs are highly-respected facilitators who have pioneered a highly-collaborative approach, whereby delegates can choose to move freely between work groups, participating and adding to the discussion as their expertise and interest dictates.
This highly-innovative, 'organic' approach has been proven to inspire and galvanize delegates, resulting in hugely-productive, energizing workshops.
Please note the Summit Agenda is subject to change.
Last updated: Nov 3, 2015
PROGRAM PDF DOWNLOAD (or scroll down to read online)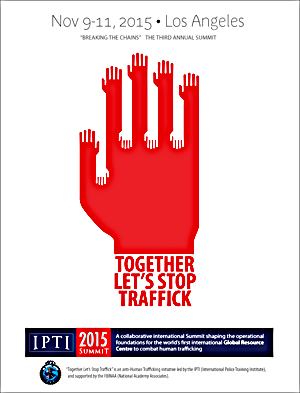 >

Sunday, November 8
Advance Registration (open Sunday 3pm-5pm)
Meet in the hotel's Rendezvous bar from 6.30pm
Evening film screening and informal discussion 7.00pm in the Rodondo Room.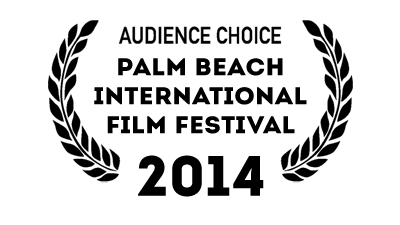 Cathedral Canyon (2013) 7.00pm
by Movies Making A Difference
"Cathedral Canyon" is about child labor and breeding for slave labor and sex in the United States. [...] Especially horrific is that they are getting away with it under the guise of religion."
— Diana David

Registration (open daily 8am-4pm)


Monday, November 9
Welcome
8.15 - 8.30am
Master of Ceremonies: Mike Sale
Welcome remarks:
Kim Derry, IPTI Co Chair
Johnnie Adams, 3rd Vice President, Section I
Deputy Chief, Field Operations
USC Department of Public Safety (CA)
8.30 - 09:00am
Leif Coorlim – CNN Freedom Project
CNN has joined the fight to end modern-day slavery by shining a spotlight on the horrors of modern-day slavery, amplifying the voices of the victims, highlighting success stories and helping unravel the complicated tangle of criminal enterprises trading in human life. We have asked Leif to join us again, as he has provided the opening and set the parameters for the discussion at all the previous Summit's.
9.00am - 9.30am
Ben Greer – Former Special Deputy Attorney General - California.
Greer is the author of California's legislation on supply chain integrity and human trafficking in the supply chain. He will be speaking about the structure of the legislation, rationale and impact for business in California.
9.30 - 10.00am
Peter Vonk
As an advisor in the Inspectorate SZW (Netherlands Federal Department of Social Affairs and Employment) Investigation Department, Peter's task is to support the investigations and the operational teams by providing legal and strategic advice in detecting fraud, exploitation and organized crime within the chain of work and income. Peter's area of expertise in this area is human trafficking investigations.
10.00 - 10.30am - COFFEE BREAK
10.30 - 11.00am
Ryan Blay – Special Agent - Phoenix FBI - Ryan is the FBI's lead on Civil Rights and human trafficking investigations and he will be speaking about the FBI's activities around labor trafficking.
11.00 - 12.00 noon
Academic and Practitioner Paper Presentations – 3 X 20mins.
During this time period academic and practitioners' papers focused on innovation in the fields related to combating human trafficking will be presented. Each presentation is designed to provide a high level overview of the topic. Delegates are encouraged to coordinate with presenters to seek more information or details following their presentations. The presentations will be electronically published after the Summit.
"Utilizing Forensic DNA Analysis and Other Biometric Methods to Combat the Crime of Human Trafficking"
Professor Timothy Palmbach, Chair Forensic Science Department, University of New Haven, USA.
Professor Palmbach's session will share how modern biometric methods, including forensic DNA typing methods, can be used to help increase numbers of arrests, prosecutions and convictions of human traffickers while concurrently reducing the undue burden of victim testimony in legal proceedings. Further, biometric data can provide human trafficking victims with a permanent personal identity, protecting them against illegal or forced transnational migration.
"Development of a Global Association of Scholars"
From The National Research Consortium on Commercial Sexual Exploitation - Dr Celia Williamson (University of Toledo), Dr Rochelle Dalla (University of Nebraska at Lincoln), and Tasha Perdue, Ph.D. Student (University of Southern California). Introducing the "Global Association of Scholars", drawn from multiple academic institutions, and its role in helping bridge the gaps in human trafficking research, as well as ambitious plans to grow the network to 150 senior and junior scholars, worldwide.

"The Missing Piece - The Importance of Individual Incentives"
Richard S W Menzi of Crimestoppers USA will share how human traffickers are hiding within legitimate supply chains - how to spot them, and how organizations can "Chlorinate the Pool" to effectively purge existing supply chains at minimal cost.
12.00 - 1:00pm LUNCH
1.00 - 2.00pm
Academic and Practitioner Paper Presentations – 2 X 20mins.
The second series of paper presentations as described above.
"Collaborative working relations: Avoiding pitfalls and achieving success in a multi-sector response to trafficking in persons."
Jeffrey S Blom, President of Global Sentry Group will share practical tips on collaborating effectively, across international borders, to combat human trafficking. He will advocate working together to construct a global network of information and best practice sharing, to effectively attack this growing criminal activity and address an urgent international need.

Combatting Human Trafficking in New Jersey"
Michael Fairweather of Pequannock Police Department, New Jersey will provide an overview of New Jersey's response to violators of human trafficking laws, outlining a selection of the programs available for human trafficking victims through law enforcement, government agencies, non-profits and direct service providers. New Jersey's approach is delivering concrete results and proving a noteworthy success story.
Q&A
2:00 - 2:30pm
Dr. Geeta Sekhon is a legal professional from India specializing in Rights of Children and Human Trafficking. She has earlier been an officer with the Indian Navy and an academician. Since 2007, Geeta is a global Consultant with the UN with extensive professional experience in the South Asia and South East Asia. She has worked with several UN agencies and authored multiple research reports and training manuals on human trafficking, child sexual exploitation, and juvenile justice; and conducted training programmes as a Master Trainer for police officers, public prosecutors and judicial officers in these three areas.
2:30 - 3.00pm COFFEE BREAK
3.00 - 3.30pm
Alana Wheeler - Deputy Director - Counter Trafficking Unit (CTU) - Ministry of National Security - Republic of Trinidad and Tobago. Deputy Director Wheeler will discuss the challenges currently facing their region, as well as ongoing training in the field of Human Trafficking and their counter trafficking efforts. (The CTU will have completed a recent project resulting from work and contacts that began at the 2014 TLST Summit, and this session is an update on that work).
3.30 - 4.00pm
Mark Smalley
Mark is Ambassador-in-Chief at the not-for-profit, vendor-independent ASL BiSL Foundation. He is frequently engaged by a spectrum of international clients as a trusted adviser and catalyst to discover where they are and to visualize where they want to be from the perspectives of Application Management and Business Information Management. At the Summit, Mark will be speaking about concepts and ideas related to organization design, work flow, information requirements and designing a culture of collaboration.
4.00 - 4.15.pm Mike Sale, AMU
Wrap up of the day's events & preparation information for Day 2.
6.00-8pm COCKTAIL RECEPTION
___________________________________________________
Registration (open daily 8am-4pm)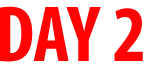 Tuesday, November 9
9.00 - 9.30am Working Groups' Reports
9.30 - 10.00am Update from Kim Derry
10.00 - 10.30am COFFEE BREAK

10.30 - noon Lab Sessions
Two consecutive, 45-minute interactive sessions, led by a number of our key speakers and presenters.
Sessions will involve active audience participation including discussion and exploration of concepts and approaches arising from the topics raised on Day 1.
12.00 - 1.00pm LUNCH
FACILITATED WORKSHOPS
Continuing on from the 2013 and 2014 Summits, these are the third and final series of collaborative, facilitated workshops and action planning sessions designed to resolve the outstanding questions and issues necessary to enable the centre to raise funding and break ground
1:00 - 1.45pm
Facilitation Introduction and instructions
1.45 - 3.00pm ROUND 1
Facilitated Working Group Sessions (75min)
3.00 - 3.30pm COFFEE BREAK
3:30 - 4.45pm ROUND 2
Facilitated Working Group Sessions (75min)
4.45 - 5.00pm Plenary (Recap)
___________________________________________________
Registration (open daily 8am-4pm)


Wednesday, November 11
Registration (open every day 8am-4pm)
9.00 - 9.15am Plenary
9.15 - 10.00am ROUND 3
Facilitated Working Group Sessions (45 min)
10.00 - 10.30am COFFEE BREAK
Please Note: There will be a two-minute silence at 11am, to honor veterans and the fallen from current and past conflicts.
10.30 - 12.00 noon ACTION PLANNING

12.00 - 1.00pm - LUNCH
1.00 - 4.00pm Practical Case Studies
Centered around practical issues, and as part of our interactive elements, delegates are encouraged to bring a case study or practical problem for discussion. Our extensive collective expertise will then be applied to help address key issues presented by the case studies selected.
2.15 - 2.45pm COFFEE BREAK
4.00 - 4.15pm Wrap-up and Thanks
Delegates depart for home.